Description
https://youtu.be/LyGBXsJfJ1w
Unleash your new
creative possibilities.
The XP-Pen Artist 22R Pro comes with a strikingly large 21.5-inch display and features 1080p resolution, allowing you draw, design, model and create directly onto the 22R Pro's surface, letting you unleash new creative possibilities.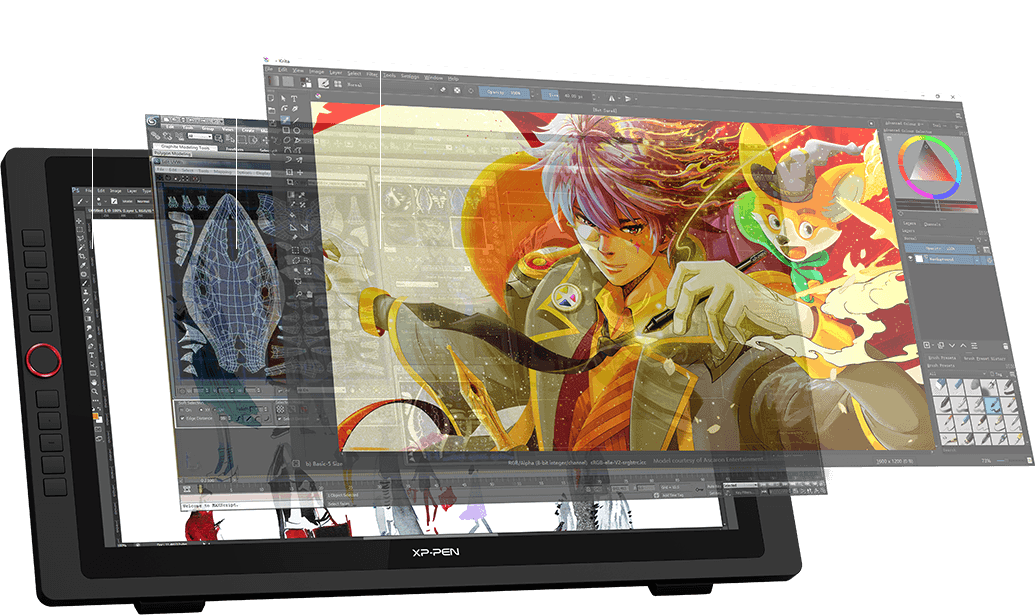 Design
Model
Draw
21.5
inch
1080P
resolution
Redefining the
professional standard.
The Artist 22R Pro is the first graphics display that supports a USB-C to USB-C connection, letting you directly connect your iMac/Mac Book Pro and other Windows computers that support USB-C input to the 22R Pro without using a USB-C to HDMI &USB adapter.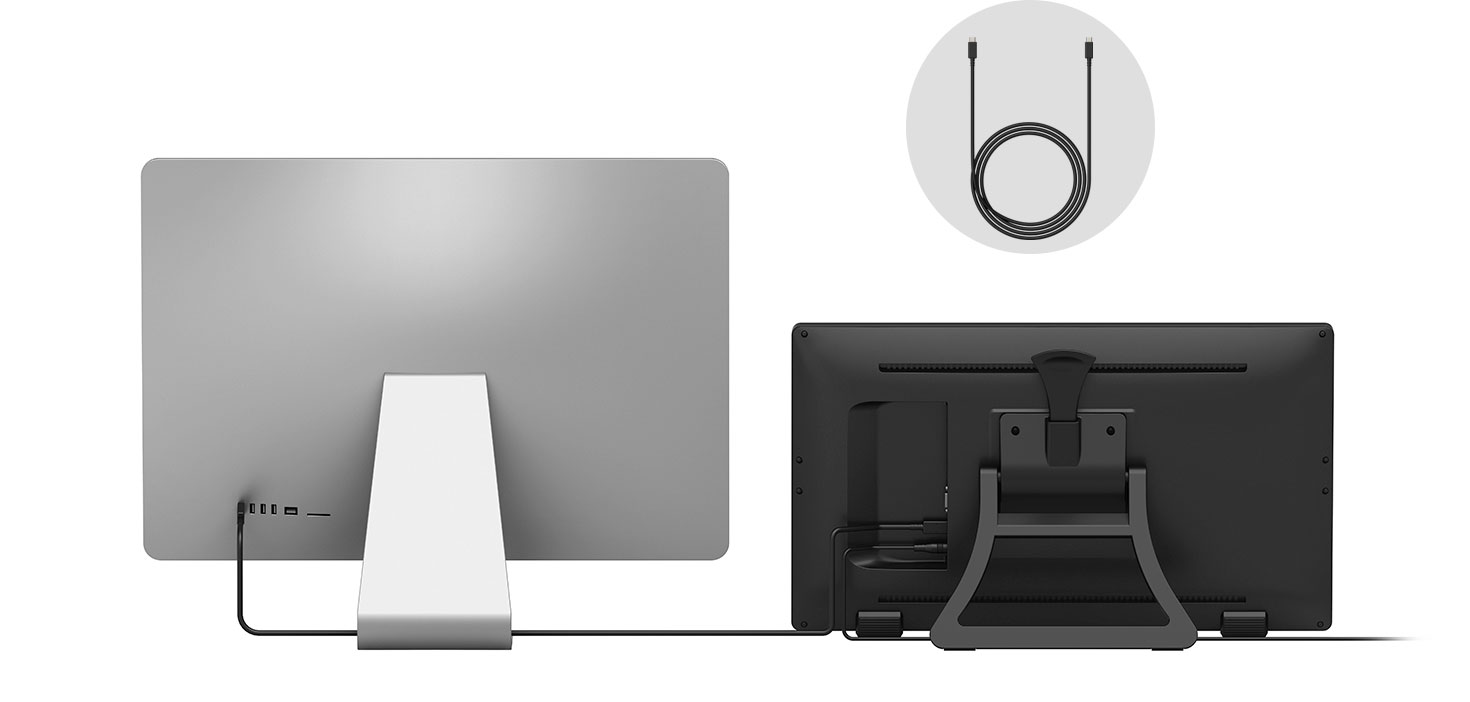 USB-C to USB-C Cable
USB-C
USB-C
DC
A drastically improved
user experience.
By applying the latest innovation and technology, the 22R Pro lets you draw with a more precise cursor positioning even at the four corners for an improved drawing experience.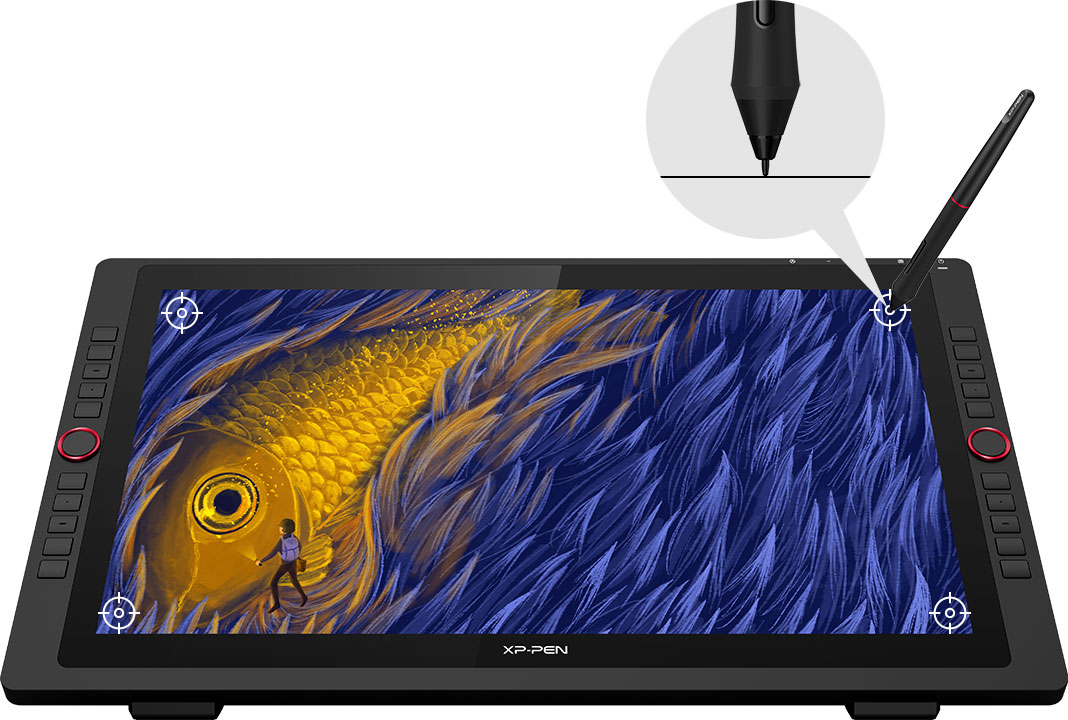 More precise cursor positioning
Redesigned to create more,
more naturally.
The XP-Pen Artist 22R Pro features two easy-to-control red dial wheels and 20 customizable shortcut keys that are conveniently placed on both sides, making it equally accessible for left and right-handed users.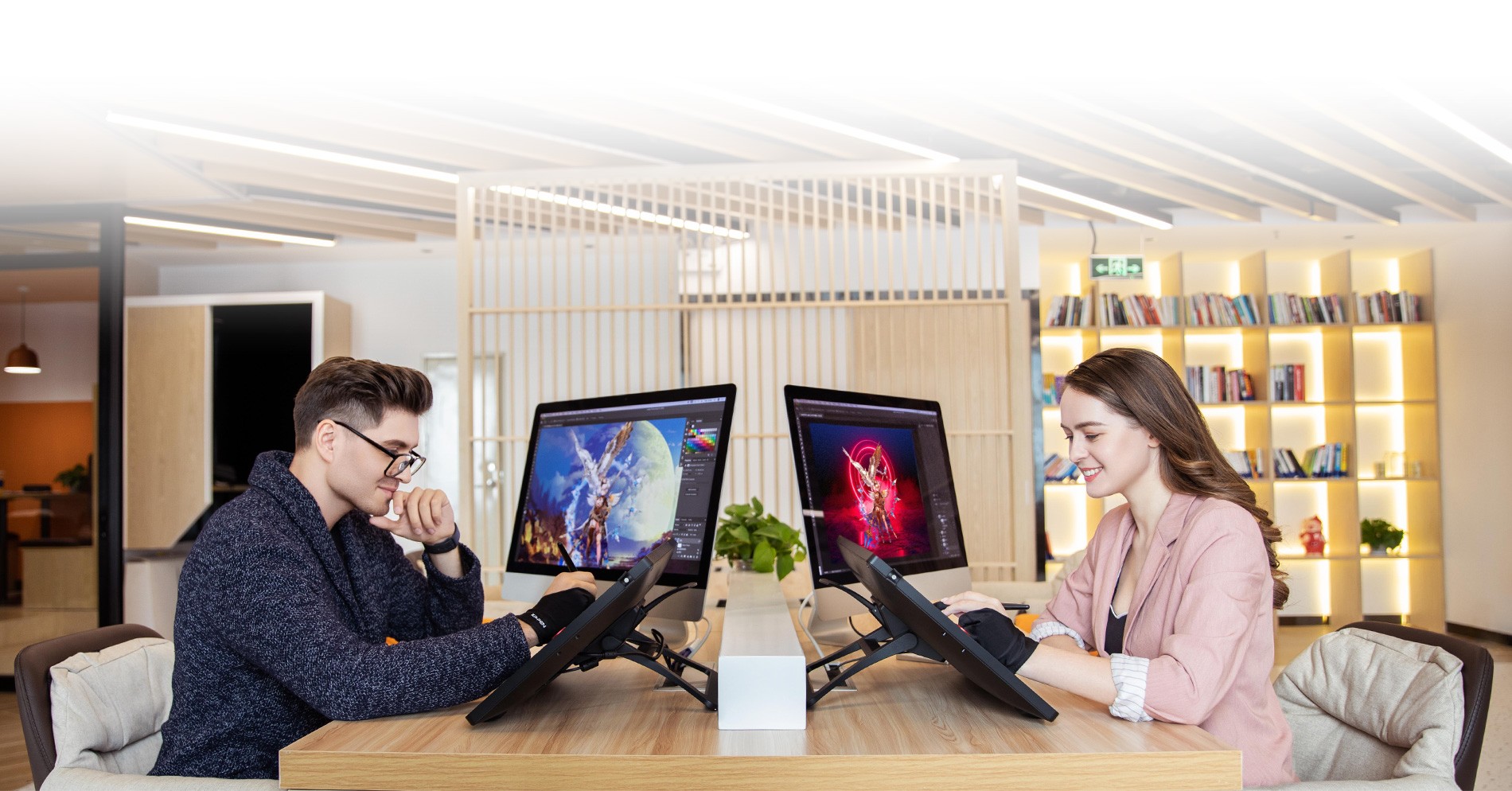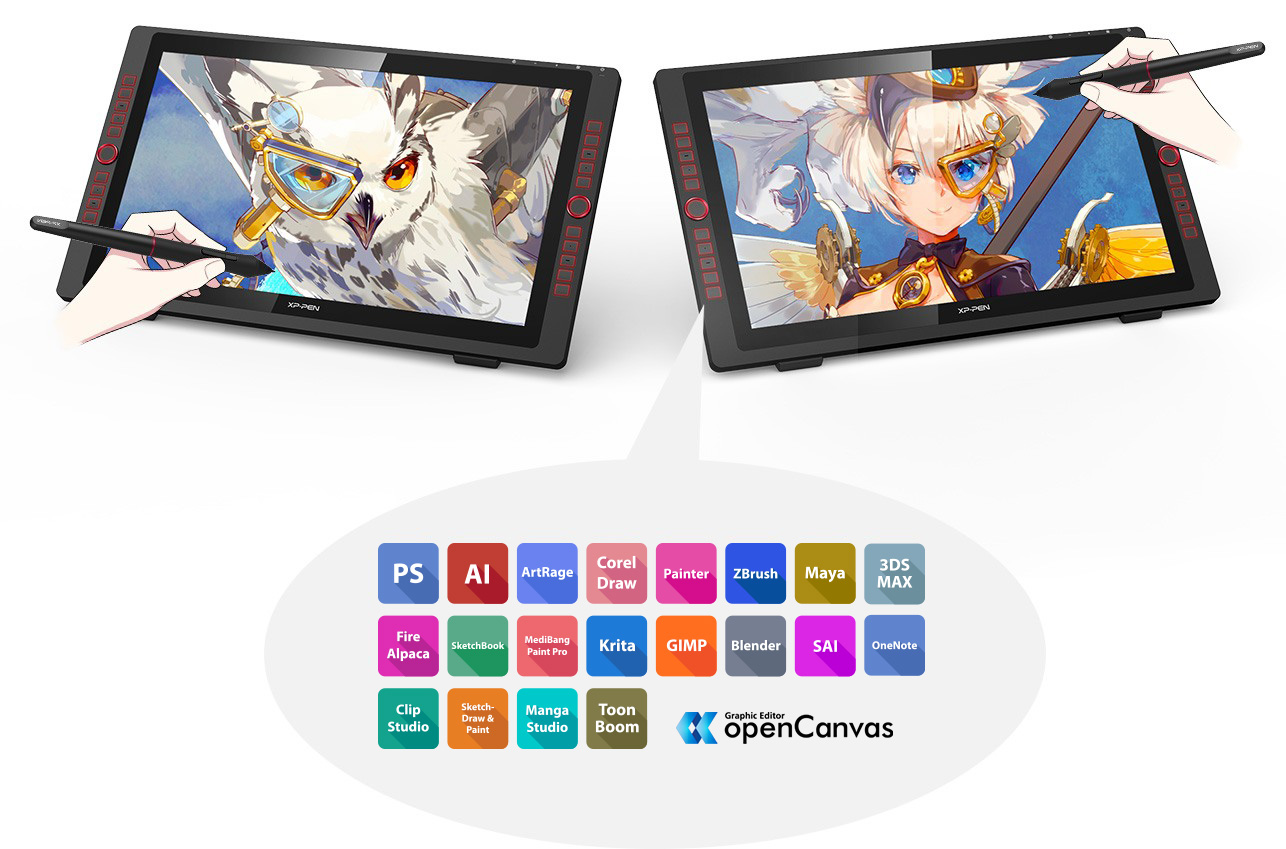 2
red dial wheels
20
customizable shortcut keys
Let your ideas flow with
brilliant color.
The 21.5 inch FHD Display pairs a superb color accuracy of 88% NTSC (Adobe® RGB≧90%,sRGB≧120%), adding brilliance to your creation with more exquisite details and vibrant colors.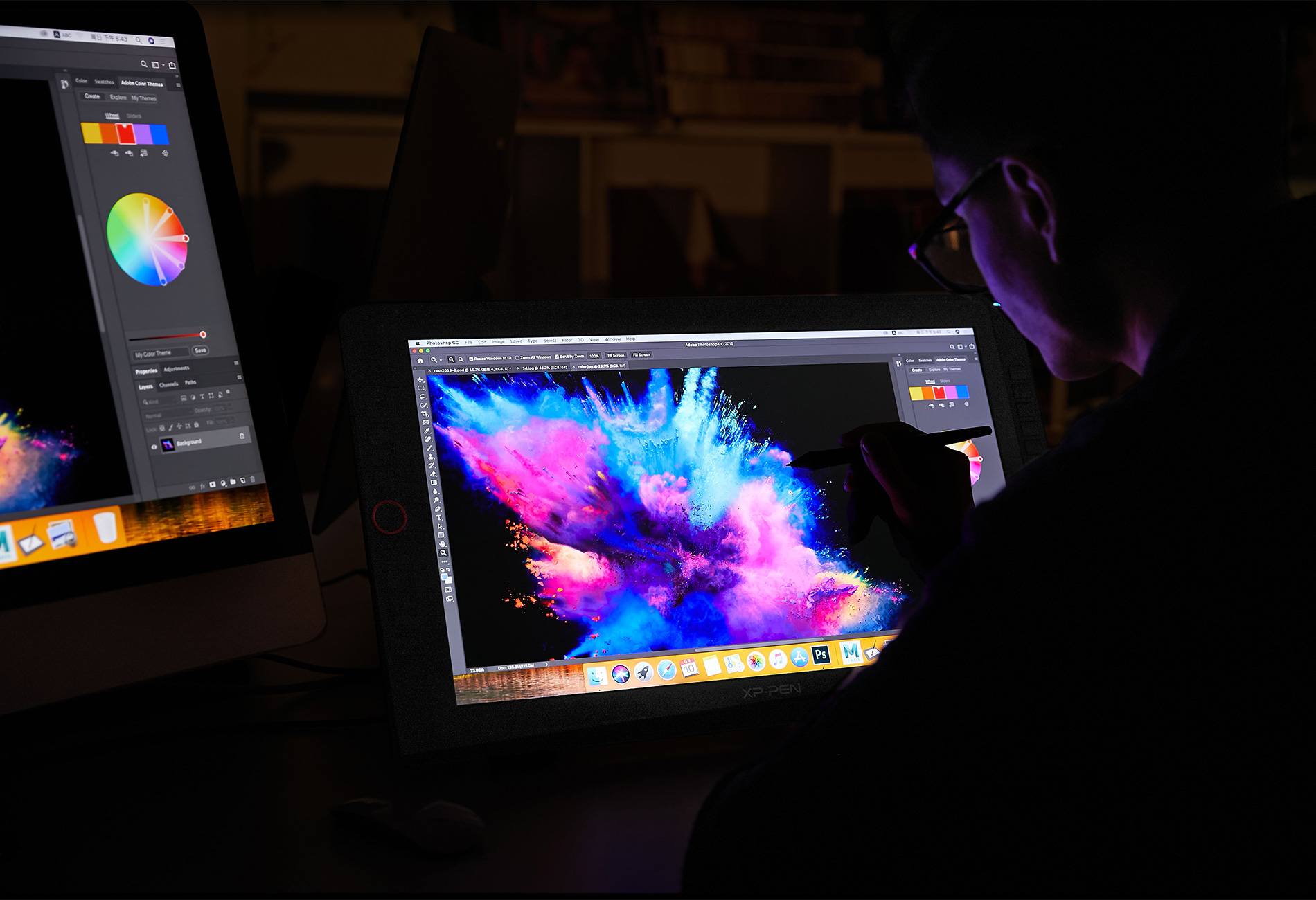 88% NTSC

More vibrant colors

More exquisite details
A fine stylus for even
finer expression.
The PA2 battery-free Stylus supports up to 60 degrees of tilt function and provides superior line performance to create the finest sketches and lines.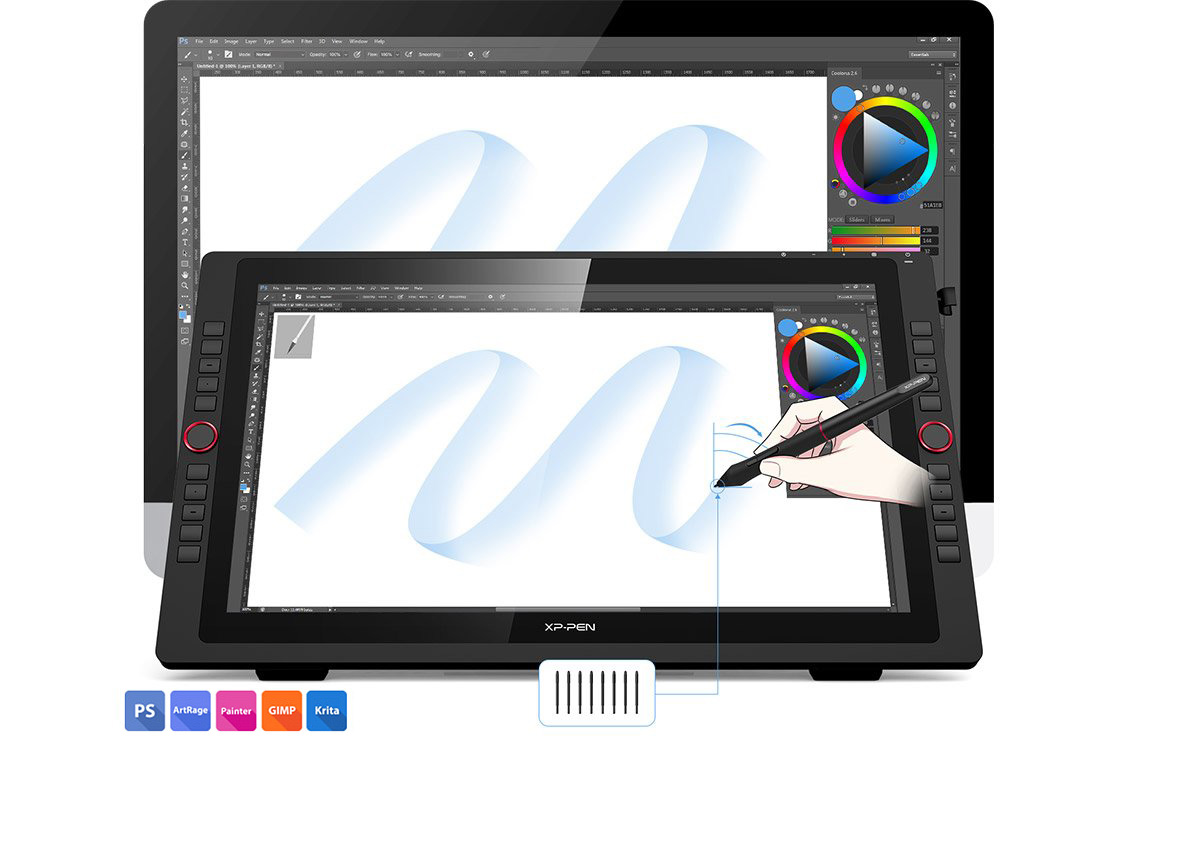 Finer pen nibs
Tilt
Small details that make
a big difference.
The Artist 22R Pro comes equipped with the USB Hub that can be used to connect your mouse or other devices. And the touch sensitive keys are specially designed to avoid sticking the way mechanical keys often do.
Click to see hardware compatibility for the USB-C interface.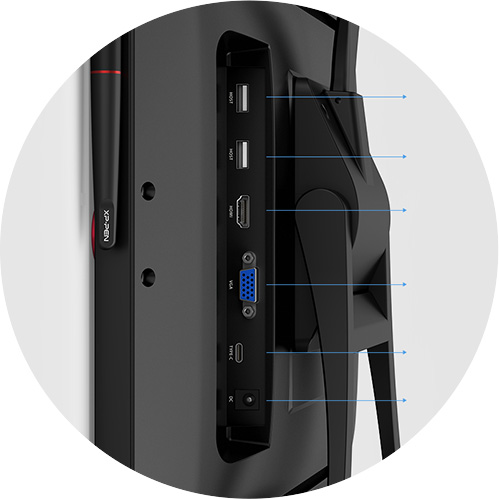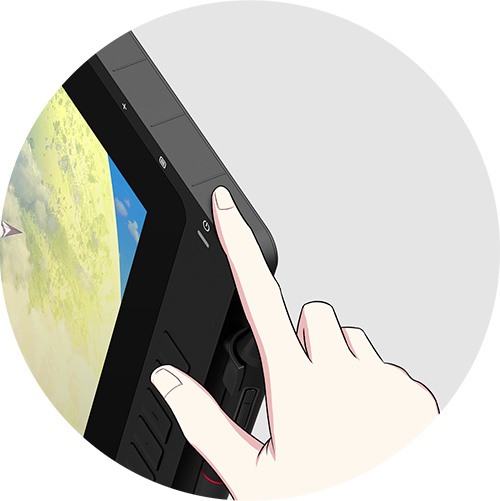 USB Hub
USB Hub
HDMI
VGA
USB-C
DC
Press for 3 sec. to turn on/off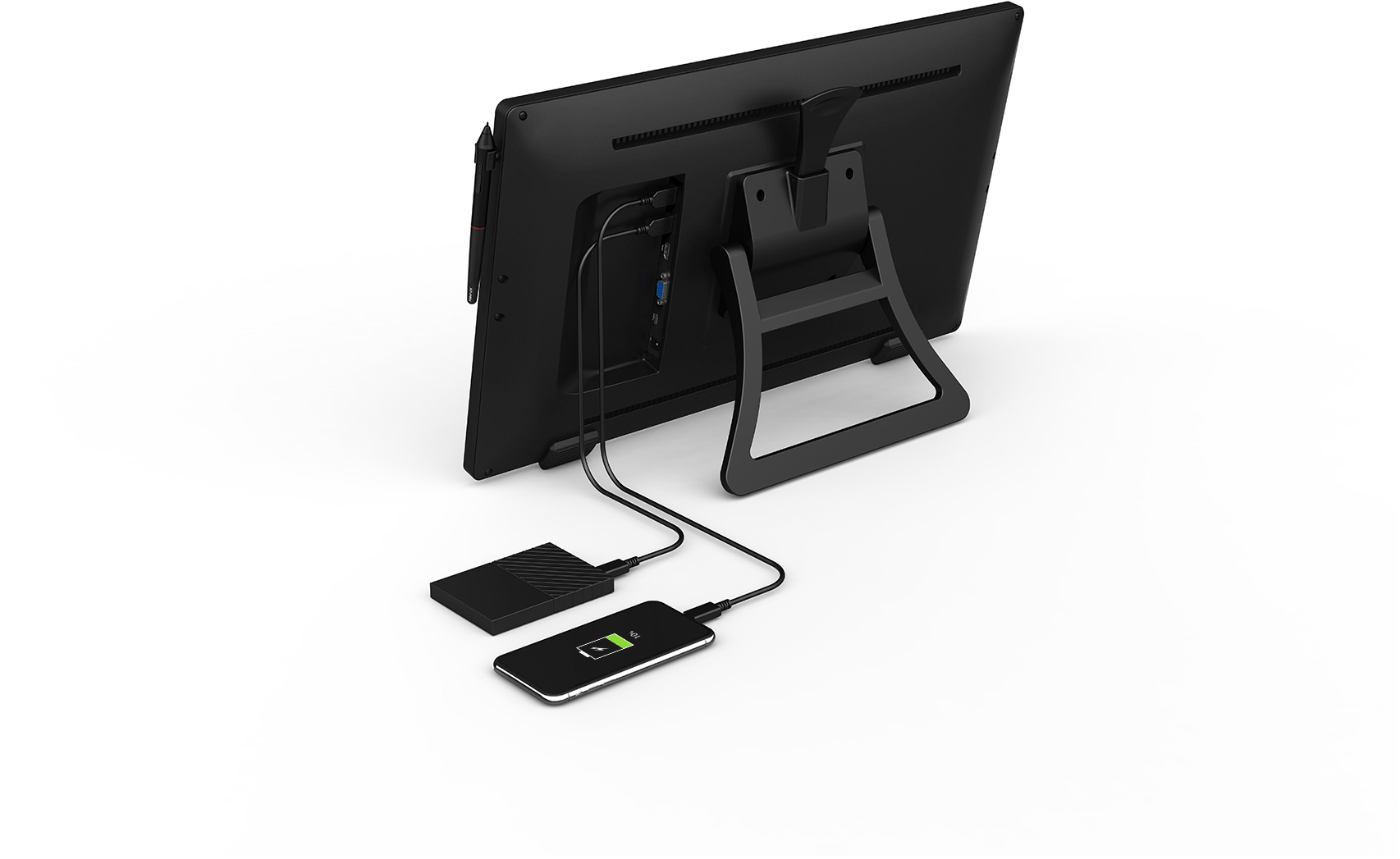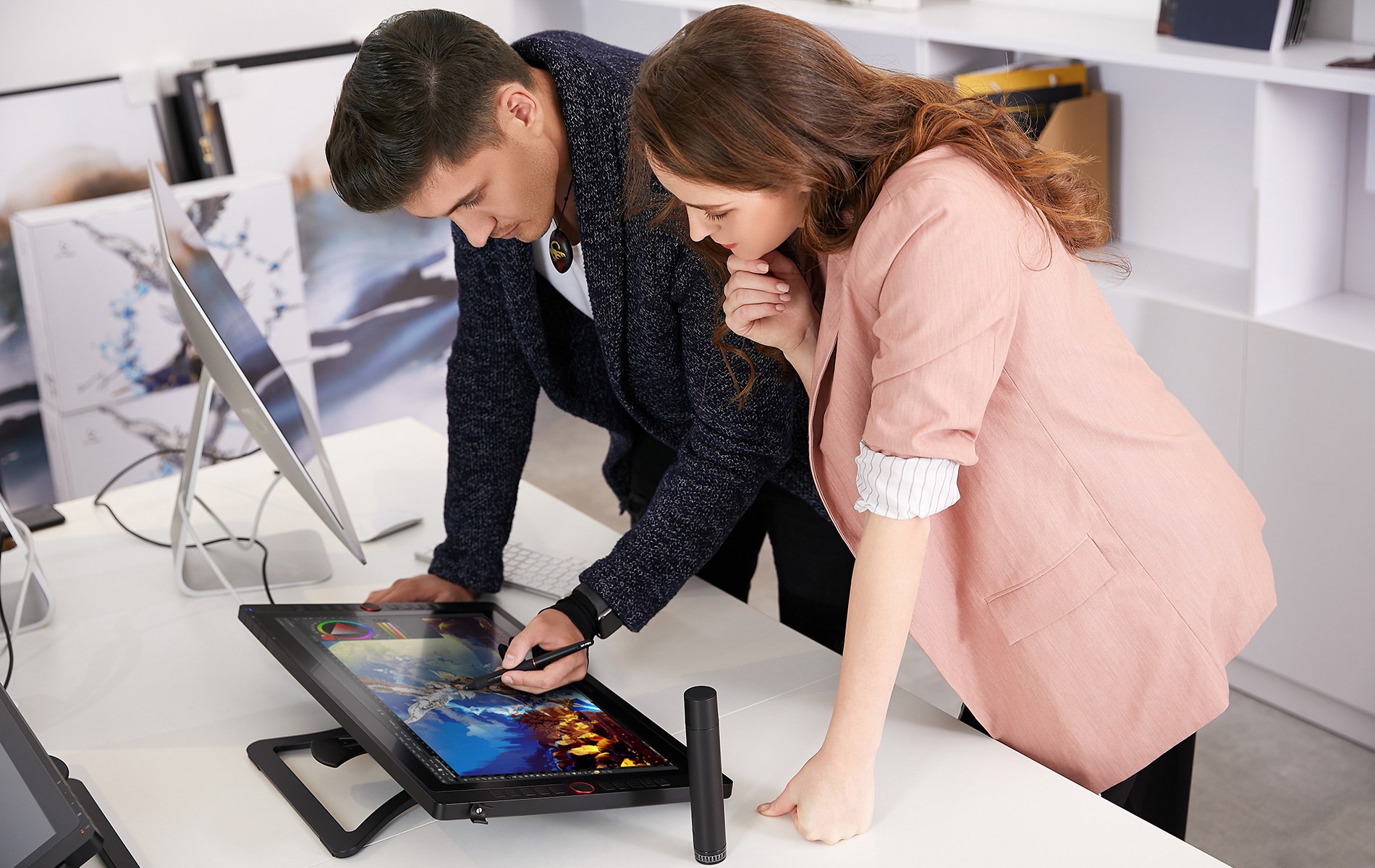 Convenience at its finest.
With the Artist 22R Pro's integrated adjustable stand, you can change your working angle to suit your various needs of creating more easily and quickly. And the specially-designed pen slot on the front side provides quick and safe access to your pen.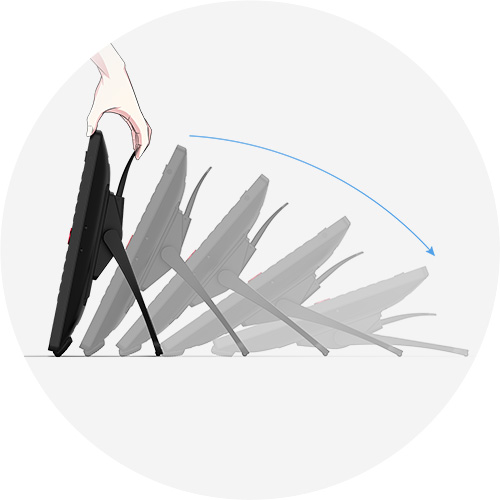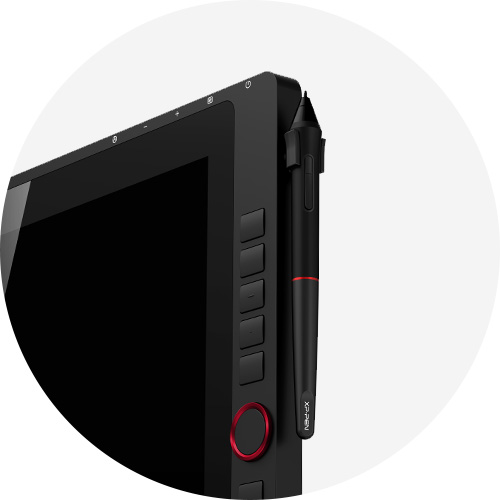 Pen slot
Accessories to match the
Artist 22R Pro.
The XP-Pen Artist 22R Pro comes with a protective film to help protect your screen and reduce glare while keeping your screen crisp and clear even bright light, while the pen holder keeps your pen and pen nibs safe and doubles as a pen stand or pen holder.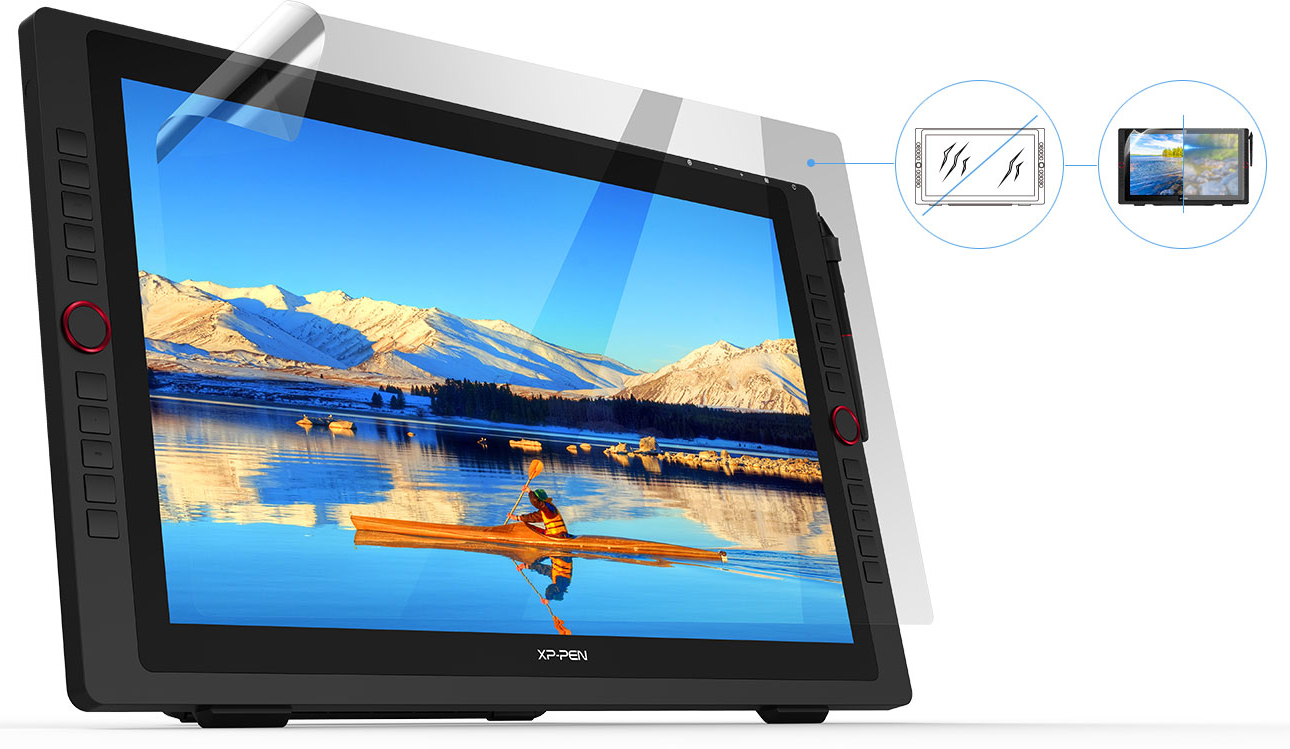 Scratch Resistance
Anti-glare
High Transparency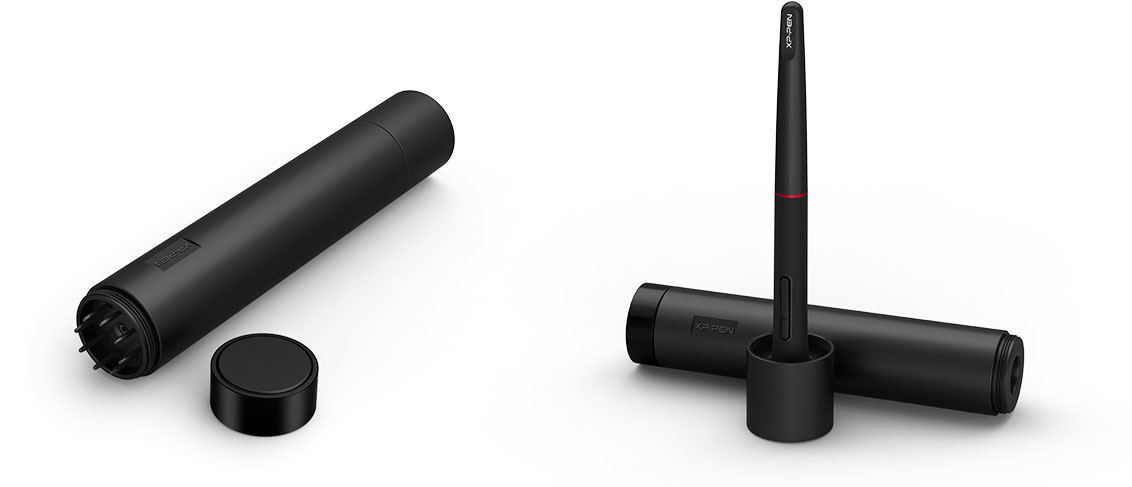 Incredibly versatile.
The XP-Pen Artist 22R Pro supports Windows® 10/8/7, Linux (Detailed versions), Mac OS X® 10.10 and higher. Compatible with popular digital art software such as Adobe® Photoshop®, Illustrator®, SAI®, CDR®, GIMP®, Krita®, Medibang®, Fire Alpaca®, Blender® 3D and more.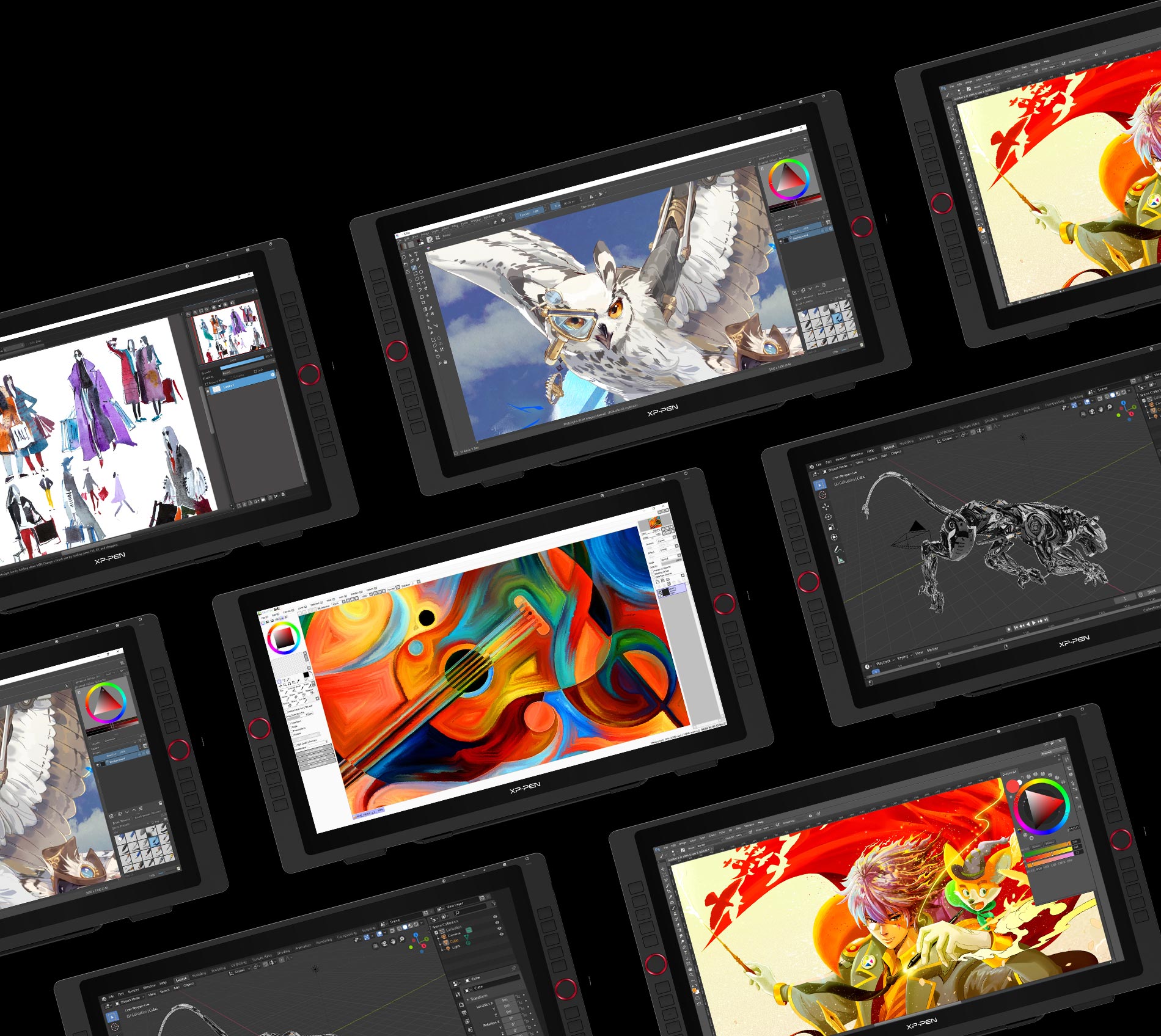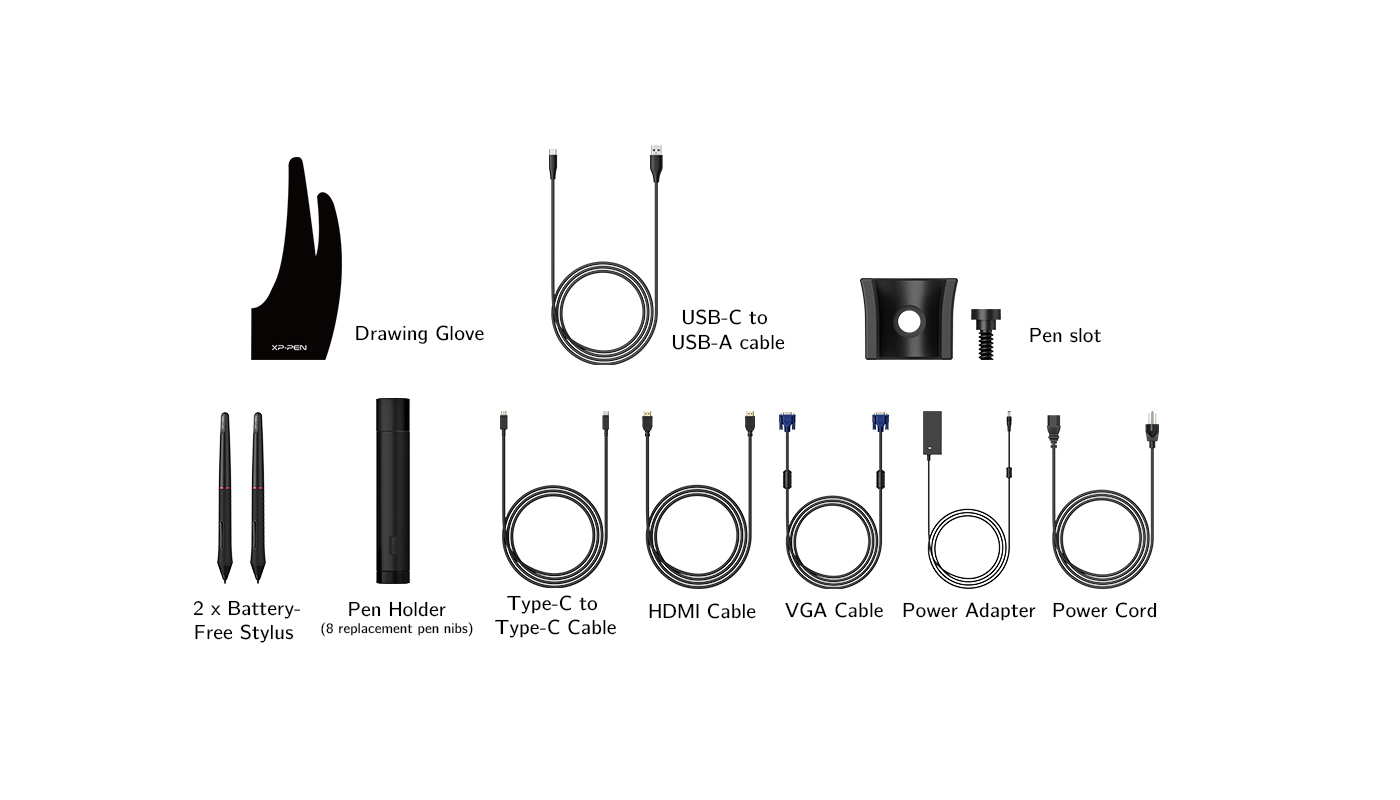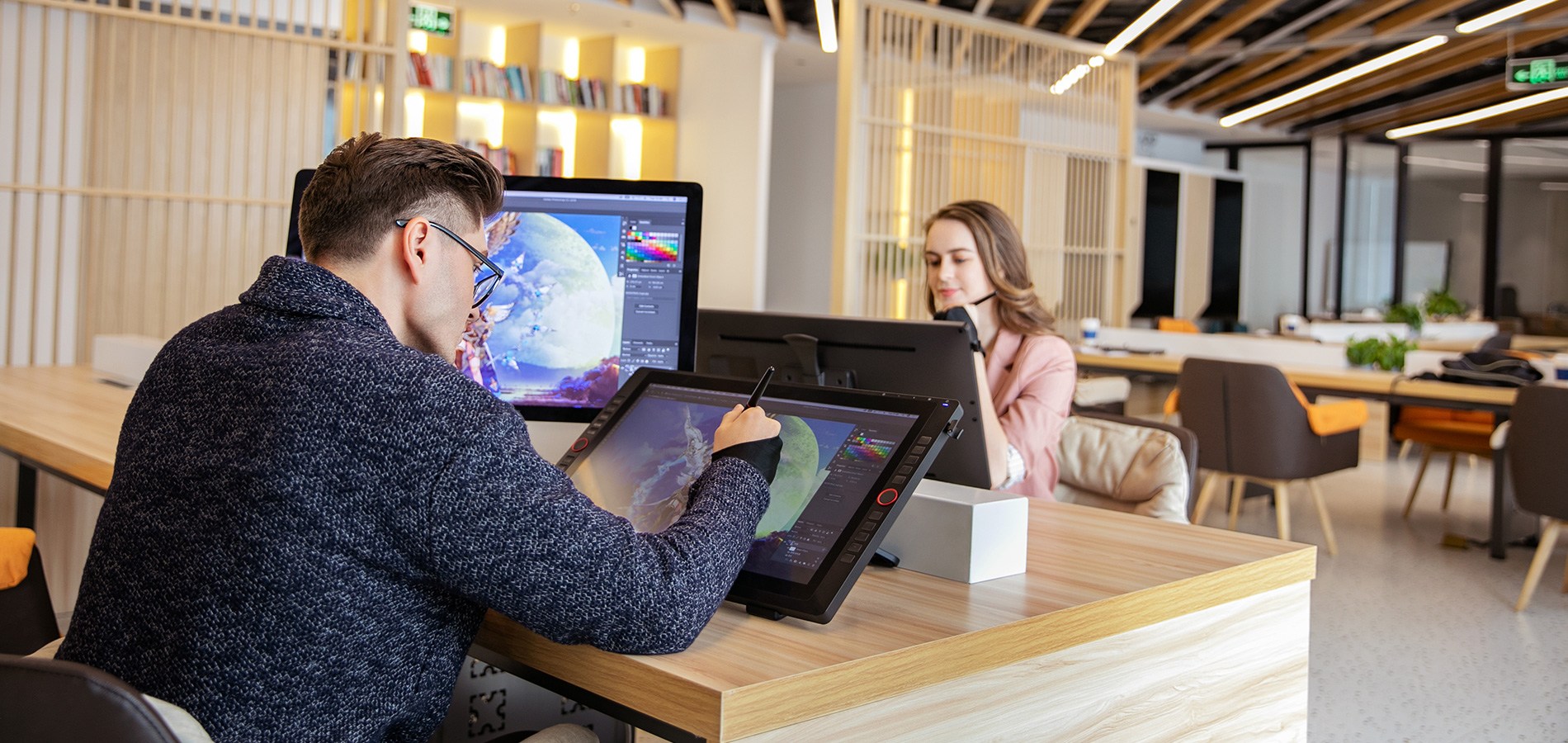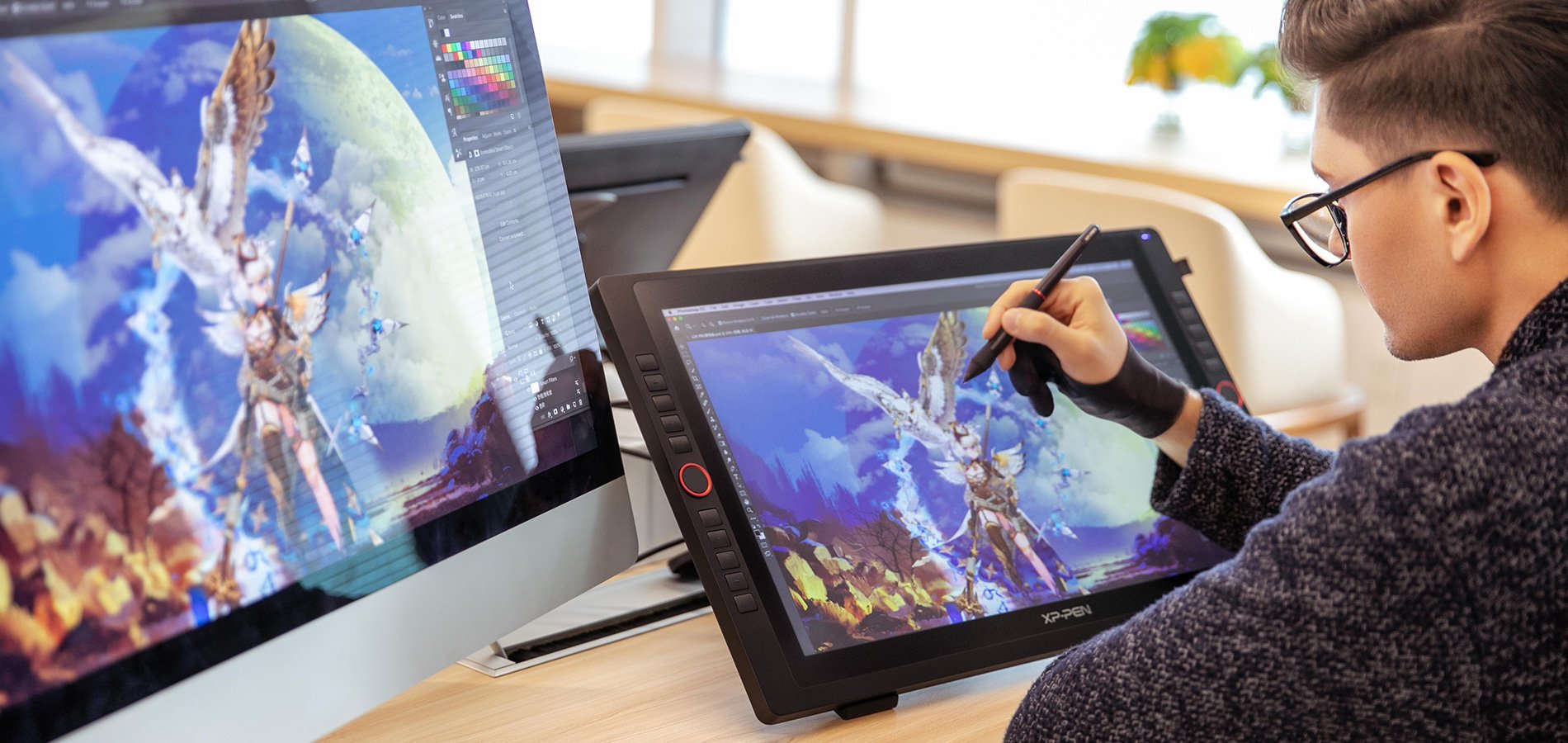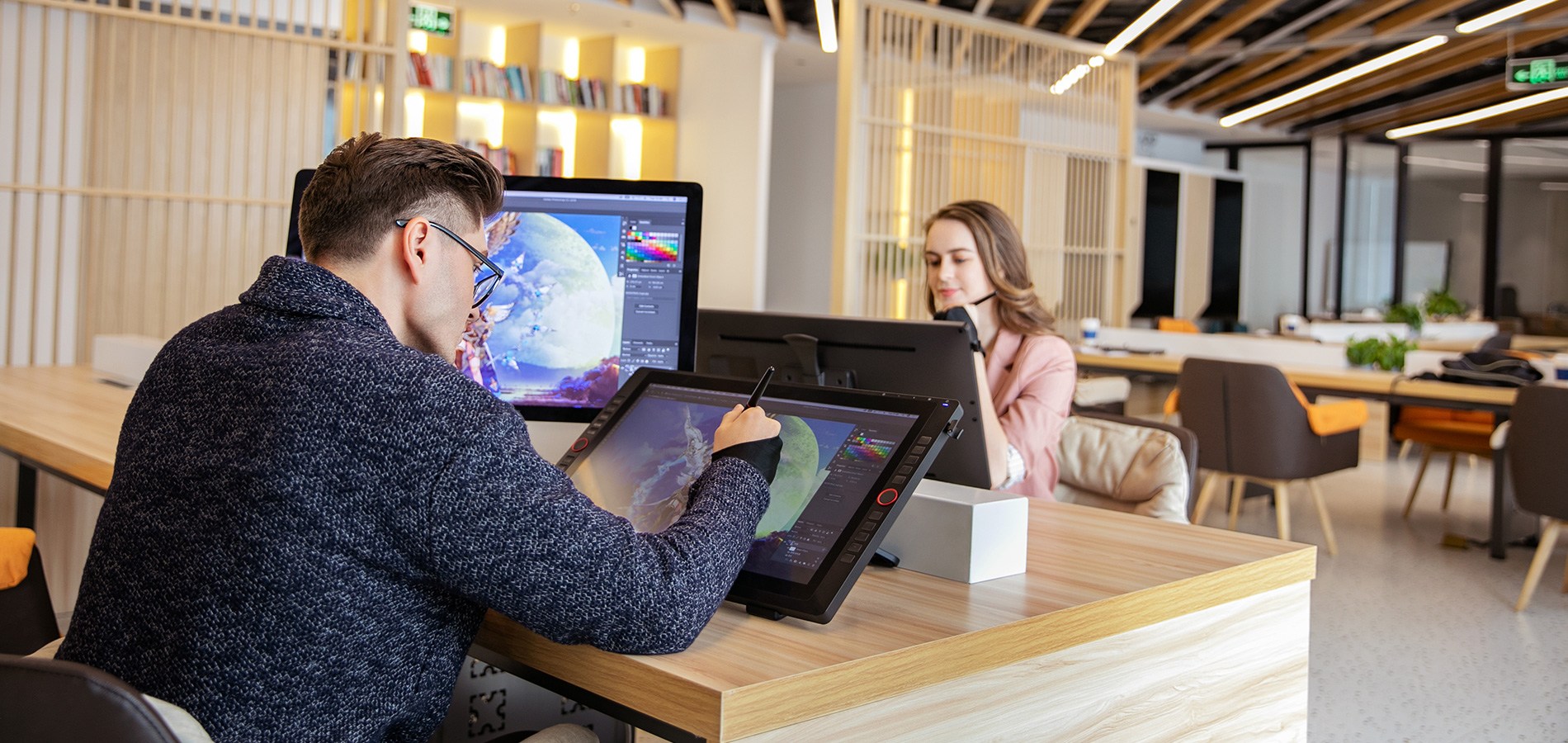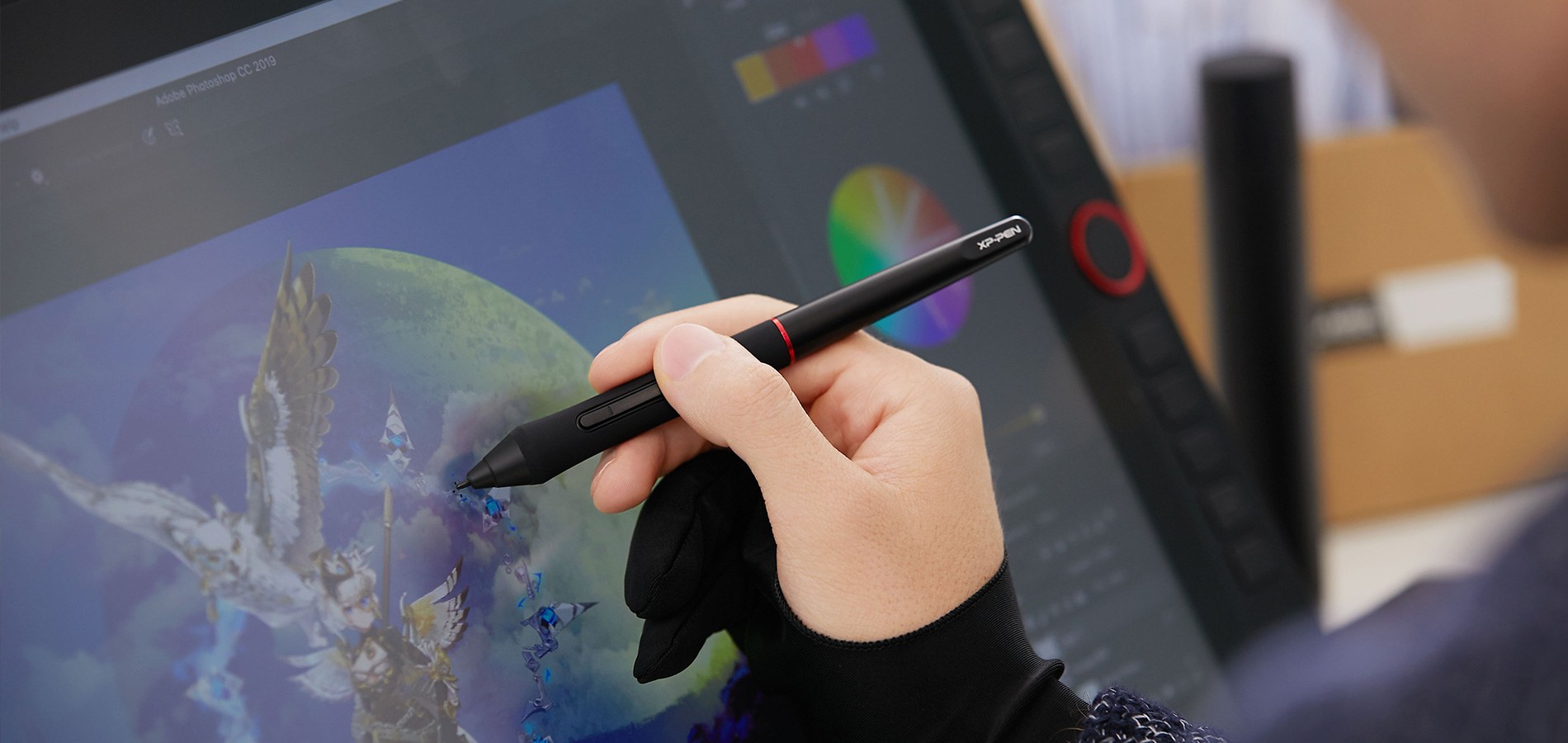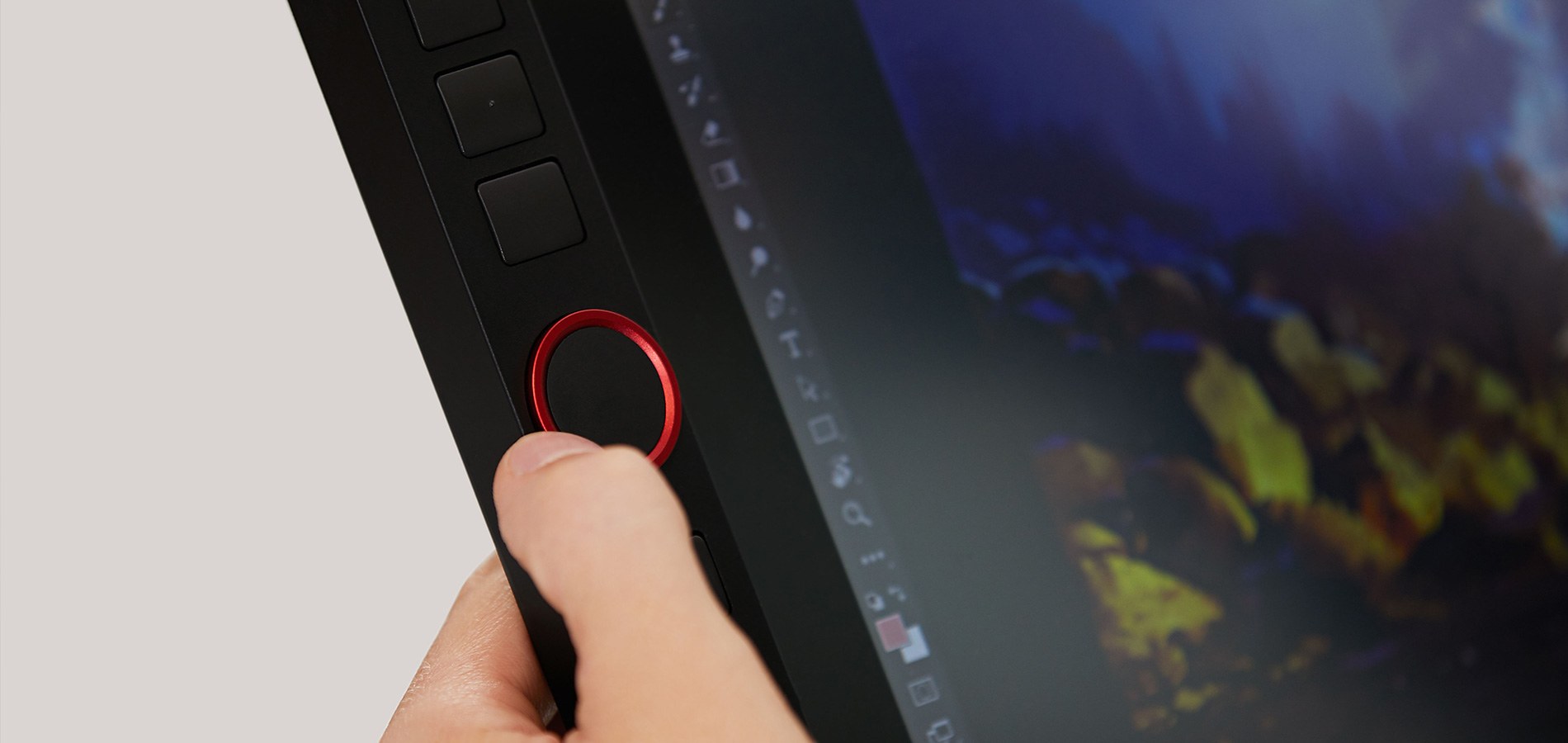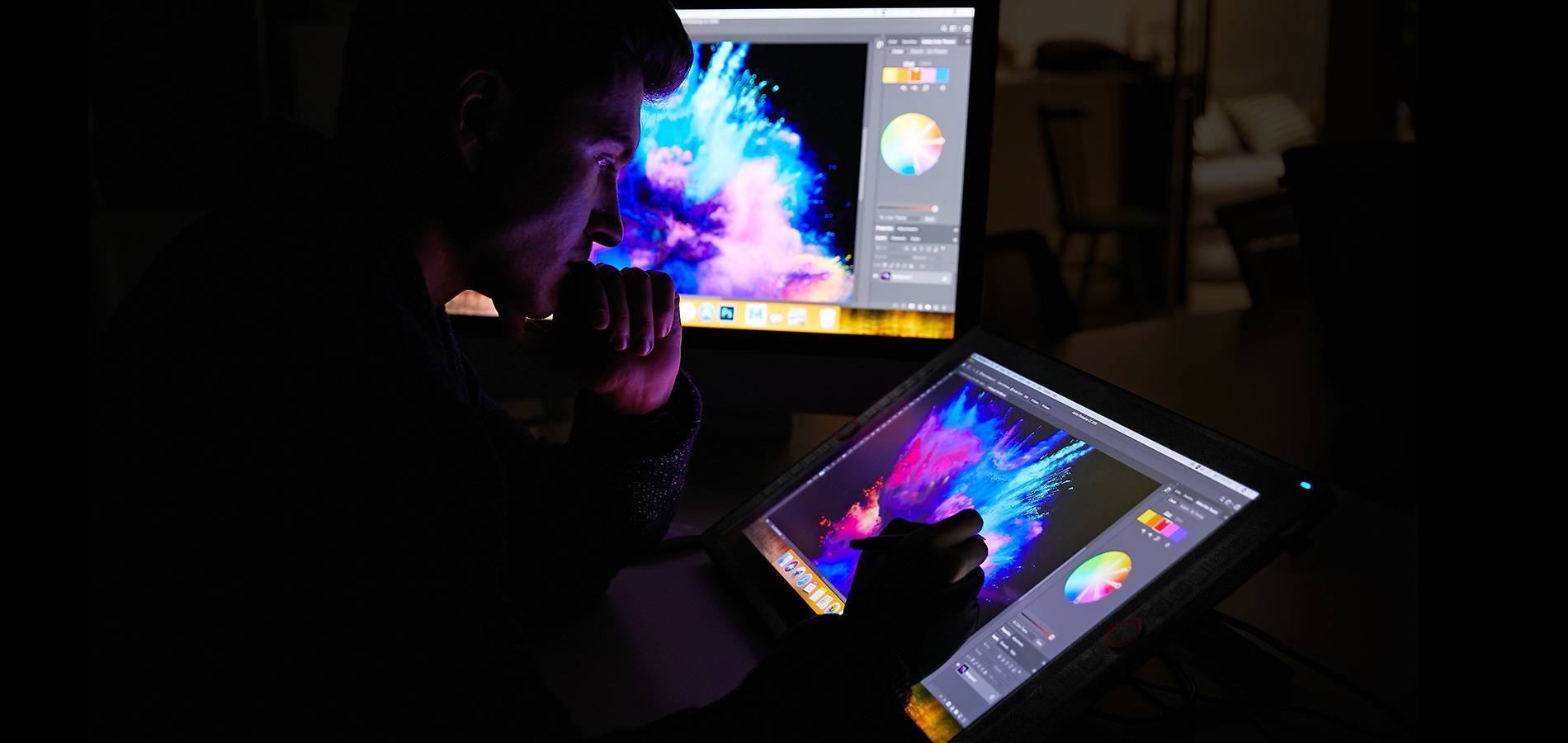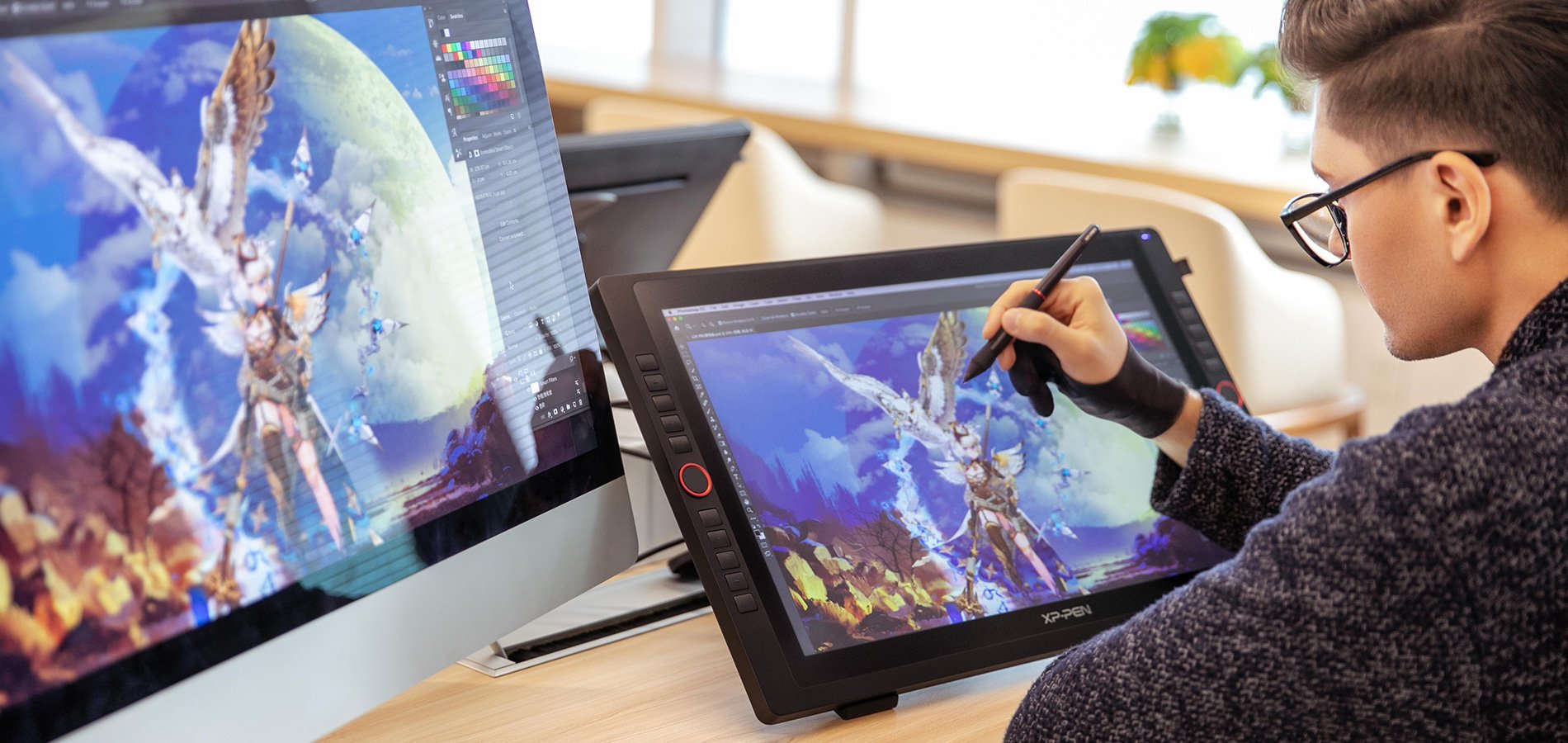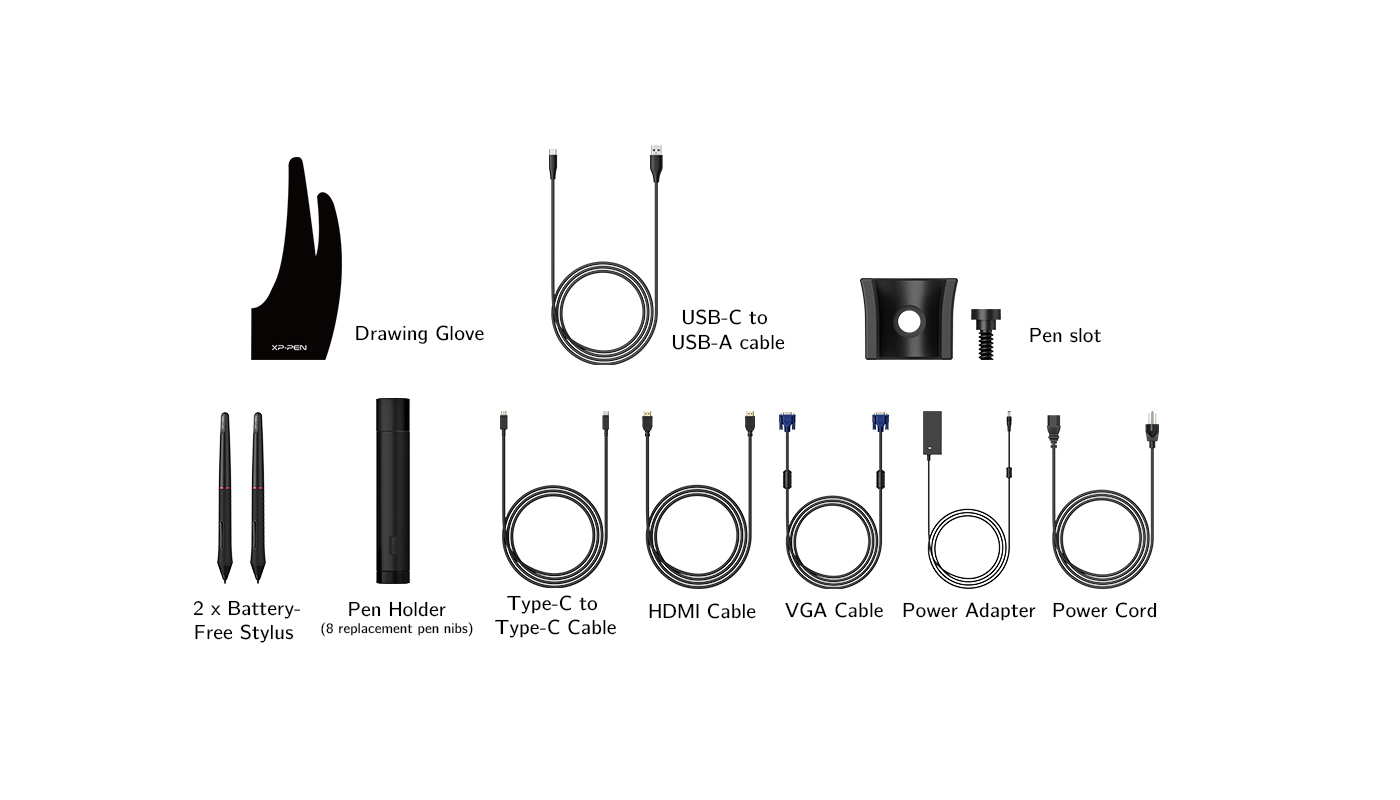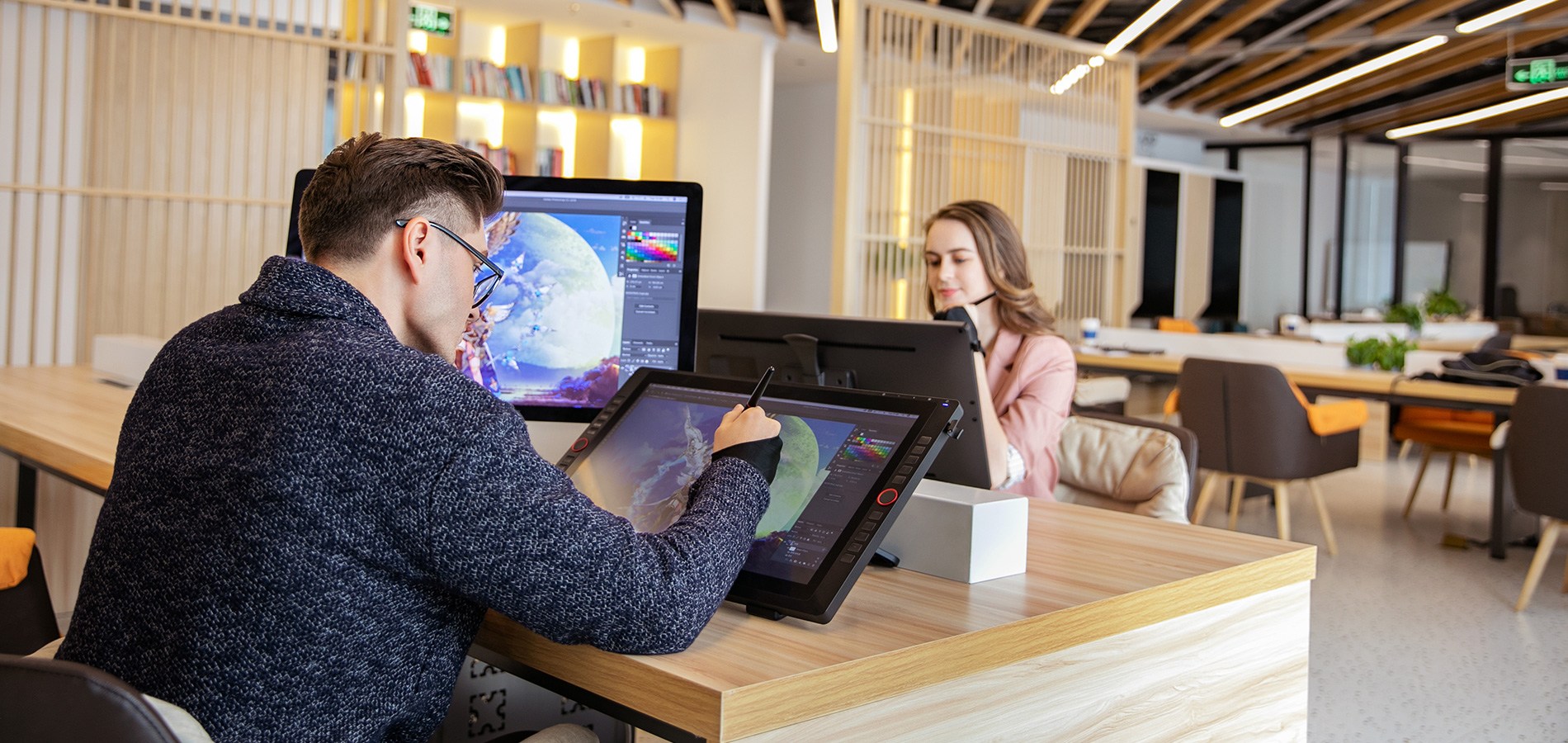 Specifications
Dimension
570*334.8*44.8mm
Display Area
476.064*267.786mm
Color Gamut
about 88% NTSC, Adobe® RGB≧90%, sRGB≧120%
Display Resolution
1920*1080Pixels
Red dial wheel
2
Shortcut keys
20
Stylus
Battery-free Stylus
Tilt
60 Degrees
Pressure Sensitivity
8192 Levels
Color Displays
16.7M
Contrast
1000:1
Resolution
5080LPI
Report Rate
Max≥ 200RPS
Accuracy
±0.01 inch(Center)
Reading Height
10mm
Interface support
1x USB-C port, 2x USB Hub,1x HDMI port,1x VGA port,1x DC port
Response Time
14ms
Viewing Angle
178°
Aspect Ratio
16:9
Adjustable Angle of the stand
16°~90°
Vesa Mount
100x100mm
Power Consumption
36W(12V/3A)
Compatibility
Windows® 10/8/7, 

Linux (Detailed versions)

, Mac OS X® 10.10 and higher
Package Included
1 x XP-Pen 21.5" Graphics Display
2 x Battery-free Stylus
1 x USB-C to USB-C Cable
1 x USB-A to USB-C adapater
1 x VGA Cable
1 x HDMI Cable
1 x Power Adapter
1 x Power Cord
1 x Pen Holder (8 replacement pen nibs)
1 x Quick Guide
1 x Cleaning Cloth
1 x Black Drawing Glove
1 x Pen Slot

Getting started with your
XP-Pen Artist display
Learn more >

All Artist displays come
with one free creative software
Learn more >
Specification

Item Size (Inch)

22.44 x 13.18 x 1.76

Item Weight(LB)

15.4

Working Area (Inch)

18.74 x 10.54

Pen Pressure

8192 Levels

Express Keys

20

Display Resolution

1920*1080Pixels

Color Gamut

about 88% NTSC, Adobe® RGB≧90%, sRGB≧120%

Pen Model

PA2

Report Rate

Max≥ 200RPS

Tilt Support

✓ ( 60 degrees )

Include with Stand

✓

Compatibility

Windows® 10/8/7, Mac OS X® 10.10 and higher